Let's Get Clear on Branding.
Our biggest goal at Hart Direction is to help small business owners and leaders get clear on what they need to do to achieve success – and branding is where we start.
Every business wants more customer activity, but some may not see the results they were promised or anticipated through their marketing efforts. What hurts most businesses currently is that things are out of alignment and your branding and marketing don't jive.
All your marketing efforts and tactics are not going to work and are a waste of time, money and resources, if your messaging is not clear.
We'll help you clarify and communicate your message to your ideal customer so they can understand the solutions you offer quickly and easily. This is the key to successful marketing.
Depending on where you are with your business, this will define where to start.
Book a call and we'll help define your brand strategy roadmap.
Branding done effectively will have many positive outcomes to growing your business success.
It will help build your brand recognition, which will elevate your brand awareness
It will align your values and beliefs with your ideal customers
It will build trust so you can charge more for your products and services
It will help gain client loyalty that will in turn improve customer retention and elevate your market share
It will elevate your competitive edge
It will increase your credibility and enhance a positive reputation through word-of-mouth
It will reinforce to your employees that your brand and culture are important and they will in turn "live the brand"
It will attract top prospects to your business
At Hart Direction, we understand that working with you and your needs can be as unique as your brand. We recognize that companies are in different phases of brand development and not every business that requires brand strategy is a new business.
It's our job to help you assess the best approach for your needs and make recommendations to move your brand in the right direction.
Download our FREE Brand Audit Checklist that helps you evaluate your brand assets and customer touchpoints.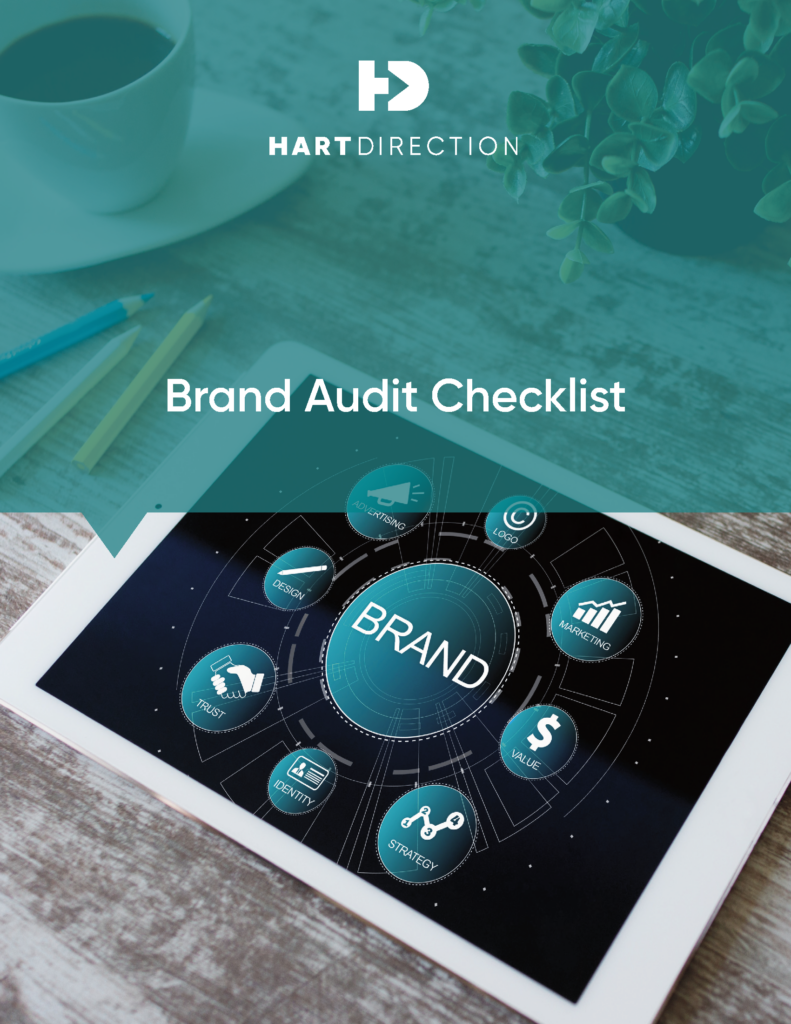 Set up your FREE 30-minute discovery consultation call.
On our call we'll:
Listen and learn more about your business
Ask a series of questions to understand where you're at with your brand
Discuss approaches for next steps
Decide together if we're a good fit to work together
Book your FREE Discovery Call
Hart Direction works with different approaches depending on your needs.
Brand Consulting 
Brand Audits
Brand Strategy Workshops and Facilitation
Brand Research: qualitative and quantitative, internal and external
Brand Insights and Recommendations
Brand Architecture and Naming Systems
Brand Strategy
Internal Core Brand Development
Brand Positioning
Audience and Persona Development
Competitive Analysis
Differentiators and Unique Value
Brand Personality and Tone of Voice
Brand Communication Strategy
Brand Storytelling Framework
Core Messaging Framework
Unique Value Proposition
Naming
Taglines
Go-to-Marketing Planning and Strategy
Brand Presence
Logo Creation
Brand Identity System and Guidelines
Creative Strategy and Collateral
Brand strategy begins from the top down and requires the company's top leaders to be dedicated to the process. We understand that not everyone has the time, commitment and budget, but we want to assure you, we have a solution for you, no matter where you are with your business. Your brand is too important to ignore.
Are you interested in where a new Brand Strategy Roadmap can take your business?