Digital Marketing Playbook
Let us create your FREE custom marketing roadmap
Your local domination roadmap to success starts here with your FREE Digital Marketing Playbook
At Hart Direction, we take pride in helping our client get a clear perspective of their online landscape. Okay, we get that most people know when their marketing is not working, and maybe it is as simple as you haven't had time to focus on a real digital marketing strategy because you are busy running your business.
We get it, and that is why we want to help you get a better grasp of what's going on with your online presence by offering you this unique marketing report customized just for your business. We use our technology toolkit to paint this picture and lay it for you by first illustrating where you are at, and in comparison with your competition. We then present this to you. As we go through your customized playbook, we hope to help you understand some logical strategies that can be taken with your digital marketing. We have to first get a clear of where you are at , so we can make strategic marketing recommendations that will take you where you need to go.
Our process is simple. Just click the button below and it will take you to our automatic appointment scheduler so we can jump on a quick call together to learn more about you and your business. We then set up a follow-up in person or video call to present your customized playbook to you. There is absolutely no obligation to you after we present the playbook. You can decide if you would like to partner with Hart Direction on the strategies recommended or take your Location Domination Roadmap as our gift to you. We will send you your custom Digital Marketing Playbook – yours to keep.
Schedule your Marketing Playbook call below!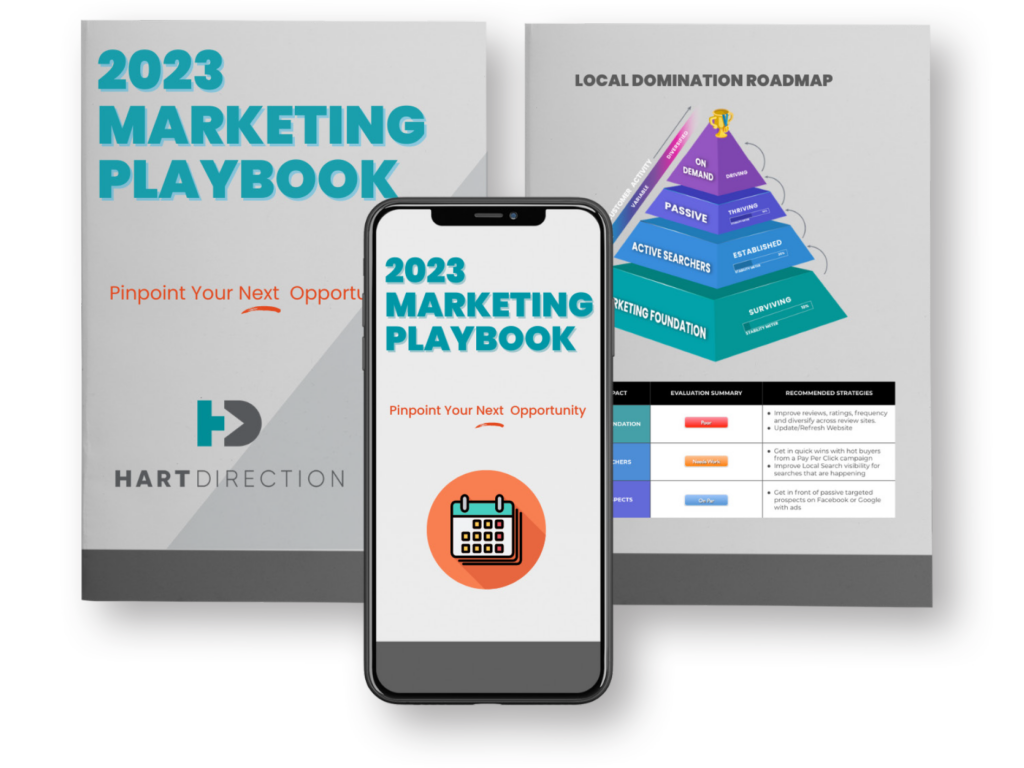 Hart Direction is committed to your privacy. We will occasionally send you free content, let you know about our offers and you can unsubscribe at any time. We have never sold data and we never will. Your email is safe with us.